Water Dragon
Egg - Baby - Juvenile - Adult - Epic
---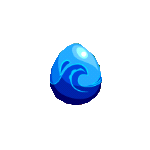 Description

---

"Baby Water Dragons are the most vulnerable of all newborn dragons. They might look like bubbleblowing sea monkeys, but what they lack in strength they make up for in magic." - Game Description
More info
Available
Level ???
Habitat
Water
Incubation Time
???
Rarity
Common
Color
Buying Price

N/A

Buying Price

10,000

Selling Price
100
Hatch
???
Water Dragon
Breeding/Incubation Time:
(currently unavailable)
Egg:
Baby Form:
Juvenile Form:
Adult Form:
Epic Form:
Description(s)

"Baby Water Dragons are the most vulnerable of all newborn dragons. They might look like bubbleblowing sea monkeys, but what they lack in strength they make up for in magic. " - Game Description at lvl 1

"With your help, your Water Dragon has grown streamlined and stronger. Your Water Dragon now glides through lakes and oceans with ease, making friends and studying the mysteries of the deep." - Game Description at lvl 4

"(unconfirmed)" - Game Description at lvl 7

Cost:
10,000
Color:
Blue
Earnings:
Baby:80 /hr

Adult:/hr

Epic:/hr

Rarity:
Common
Community content is available under
CC-BY-SA
unless otherwise noted.